MAXJET Economy Parts Washers
ECONOMY AT SUPER LOW PRICE
Economy and function – We choose to invest in the best pump available and still keep it an affordable washer.  MJ100 has the capability to clean a full size E4OD transmission case standing up or laying down.
Using a 40 GPM @ 45 PSI through 44 brass spray nozzles, the parts are blasted from all angles without the need for a turntable.  Standard with an oil drain valve, an optional oil skimmer is also available. This washer is manufactured without any moving parts to wear out or need replacing.  This is a thermostat controlled heated recirculating washer.  Cleans with soap and water – no solvents. 
Inside working dimensions – 30"W X 32" D X 34" Tall    Capacity 250 lbs    230 V 1ph
The MAXJET 3045E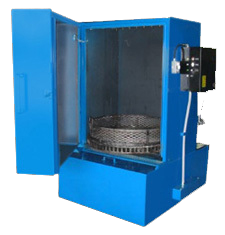 The MAXJET 3045E parts washers are built for economy but that doesnt't mean it is short on power. Our 3045E cleans as well as machines costing 3 to 4 times as much, we guarantee it!
MJ3045E parts washer is a favorite for transmission shops, engine builders, agricultural equipment shops, motor cycle service shops and light industrial applications. Compact – fits in a 4 foot square.
SPECIFICATIONS
Inside working height: 41″ (E40D transmission fits)
Turntable diameter: 30″
Weight capacity: 500 lbs. (Center loaded)
Pump: 1HP, 70 GPM @ 45 PSI
 Free tee bar, small parts tray, and start up detergent.
The MAXJET 3054E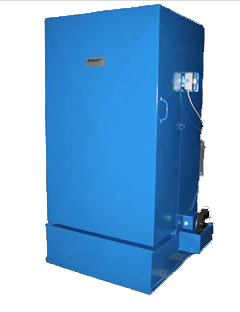 The MAXJET 3054E parts washer is large and powerful enough for truck shops and loaded with options. The MAXJET 3054E is our largest and best equipped economy cabinet parts washer. If you are looking for an economy part clenaer that does it all then check out the MAXJET 3054E!
MJ 3054E parts waher is designed for truck shops, construction repair facilities, and agricultural equipment shops. The increased working height of 54 inches allows longer oil pans and other pieces to be cleaned.
Specifications:
Inside working height: 54″
Turntable diameter: 30″
Weight capacity: 1000 lbs. (Center loaded)
Pump: 2 HP, 70 GPM @ 52 PSI
Free tee bar, small parts tray, and start up detergent.
The MAXJET TL2EZ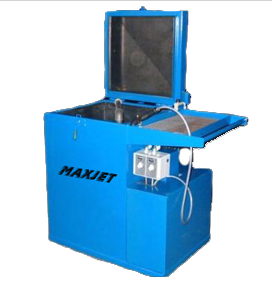 Don't let the small profile fool you as this parts washer still packs plenty of room with a generous 21″ X 20″spray cabinet. Add in the ability to hand detail with the side tray and you have a unit to do most cleaning applications.
MJTL2EZ parts washers provides the automation of a jet spray top load cabinet with the handy detail brush for hard to clean parts that require a little extra detailing. This tray can be used for a drip rack while parts dry. Users include pump rebuilders, small engine shops, and work cell parts washers.
SPECIFICATIONS:
Compact for work cell – Footprint- 40″H x 27″W x 44″D
Inside Working Height- 18 inches
Basket Dimensions- 21″Dia. x 6″Deep
Pump Motor- 3/4 Hp
Power Source- 230 V 1 ph or optional 115 Volt 1 ph
Work Load- 300 Lbs.
Special Feature Hand Detail Flow Brush
MEDIUM DUTY PRO 100
SPECIFICATIONS:
AUTOMATIC LOW WATER SHUT DOWN
EXTERIOR DIMENSIONS (H/W/D) 67″ X 44″ 45″
INTERIOR HEIGHT 43″
TURNTABLE DIAMETER 30″ FIXED
WEIGHT CAPACITY 500 LBS
ELECTRIC 1 PHASE 50 AMPS-220V
PUMP HP 2 HP Gusher
GPM 78
P.S.I. 40
TANK SIZE 50 GAL.
HEATER: ELECTRIC 6000 WATT
HEAT UP TIME 1 ½ HRS
TURNTABLE DRIVE SYSTEM DIRECT GEAR DRIVEN
SPRAY NOZZLES 18 BRASS NOZZLES
SHIPPING WEIGHT ON PALLET 850 LBS
OIL SKIMMER INCLUDED
HEAVY DUTY CASTERS INCLUDED
PARTS TREE
SMALL PARTS BASKET
Call us today at 866-540-7575 for a no obligation assessment of your cleaning needs and to discuss the optimal cleaning configuration for your application. We can help you save time and money plus do the job better.