MAXJET Parts Washers for Commercial Applications
MAXJET heavy duty parts washers are built rugged for dependability but still maintain a very competitive price.
MAXJET front load cabinet models are manufactured in turntable diameter sizes of 30, 36, 50,60 and 72 inches. Turntable capacities can be designed up to 10,000 pounds. Working height, distance from turntable to top nozzles, are 45 inches to 72 inch as standards. Custom working heights and capacities are available. Depending on the model.
Electrical services offered include 230 1 ph or 3 ph, 480 3ph, 600 3ph. European 375 voltage is also available.
Tube fired gas heat is optional.
All models are available in optional Stainless Steel
MANY STANDARD FEATURE ARE INCLUDED
Gear Drive, Low Water Shut Down, Disk Style Oil Skimmer, Drop Down Center Spray Bar, Sealess Pump
MAXJET Front & Top Load Spray Cabinets Batch Style Parts Washers
BEST PRICE IN THE INDUSTRY ON OUR MODEL 5060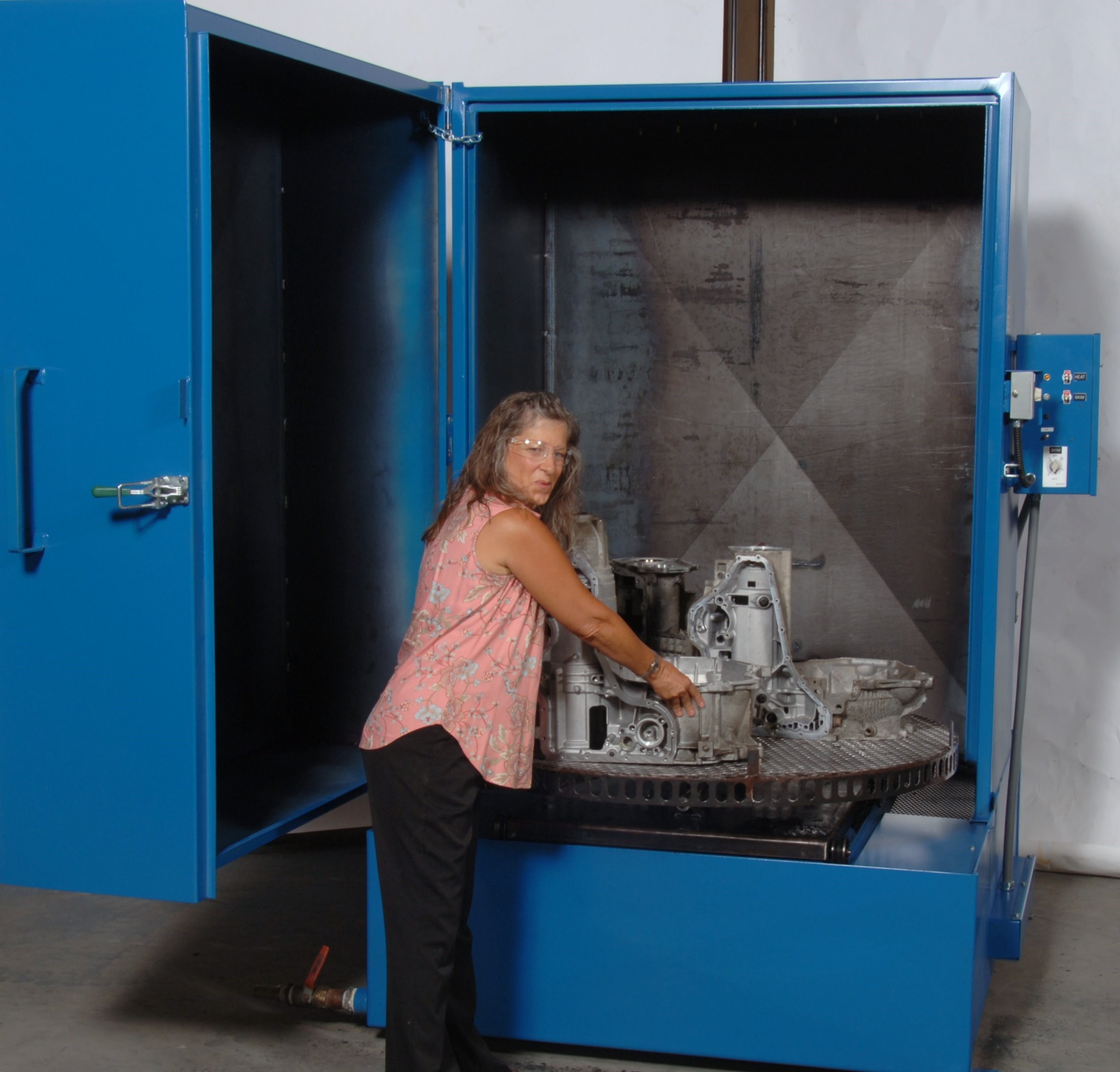 Available in standard size turntables size  from 24″ to 72″.   Working heights are 45″ to 72″.   Load capacities from 1,500 lbs to 5,000 lbs.   Custom sizes and capacities available in mild and stainless steel construction.  Available in 230 1ph, 230 3 ph, 480 3 ph, 575 3ph and European voltages.
Standard are oil skimmer, low water shut down, sealless pump,
and a center spay bar.
Electrical services offered include 230 1 ph or 3 ph, 480 3ph, 600 3ph.  
European 375 voltage is also
available.
Tube fired gas heat is optional.
Top Load Parts Washers
Turntable 24″ to 100″ Capacity 1500  to 5,000 pounds
Mild and Stainless Construction
Work cell roll back door design 
Turntable 30″ to 50″ 1500 to 2500 pound
Interior working height 30″ to 60″
see our roll back door section for more information and video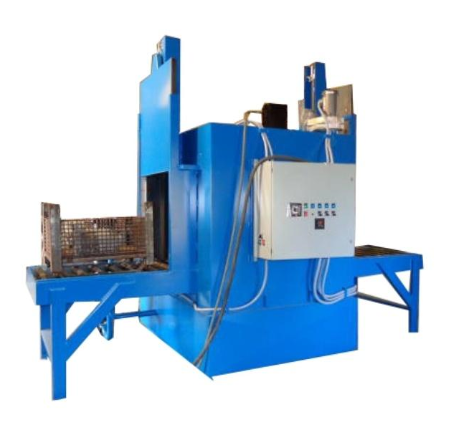 Gas Heated Large Capacity Belt Style Parts Washer
Custom Extra Capacity and Custom Construction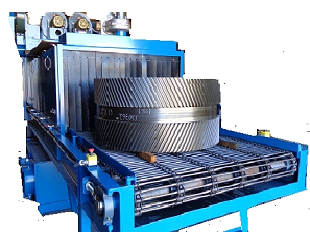 5,000 Conveyorized Gear Washer 
 THE MAXJET TUNNEL
MAXJET Tunnel Style parts washer can be custom designed for various wash, phosphatizing, rinse and drying stages.
This 2 1/2 cycle monorail conveyor is used for washing and phosphatizing parts. This parts washer has excellent access and view windowto monitor every stage of the process. Full ventilation and fiberglass walkway included.
Large Extra Heavy Duty Heated Immersion Washer
Large Extra Duty Heated Immersion Washer
–
Heavy parts are cleaned with oscillation of the platform in the hot aqueous solution.
May be use with solvent__X ___ platform  capacity ______lbs
Heated ____gallon tank
0-12 Hour Wash Timer  0-12 hr Heat Timer
Oil Skimmer
Optional Filter with pump creates intense subsurface turbulation.
 Customs Carts Transport Parts for Easy Off Load into Washers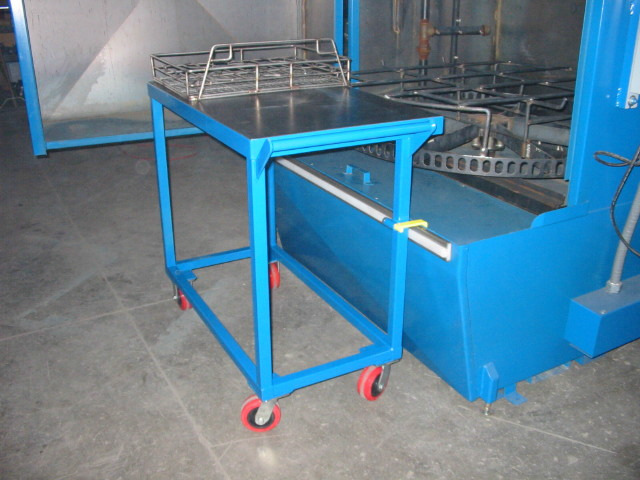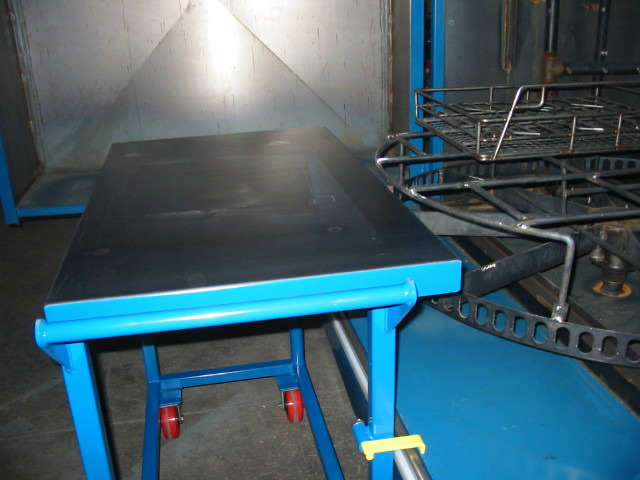 UHMW top allow baskets to slide onto special fixture.
Flip over bracketkeeps cart in position.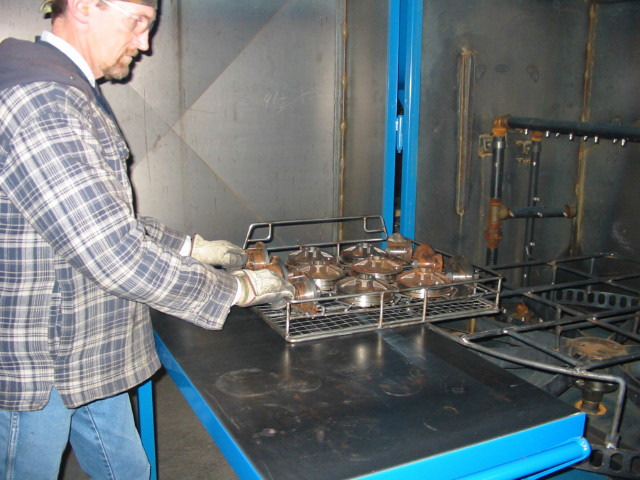 Easy loading to prevent back strain for operators.
Call us today at 866-540-7575 for a no obligation assessment of your cleaning needs and to discuss the optimal cleaning configuration for your application. We can help you save time and money plus do the job better.