(TB) – DEBURR TUMBLER  
The unit uses a variety of media such as ceramic, steel or walnut hulls.  An effective way to remove GLAZING, VARNISH, BURRS AND CARBONS.These tumbles are ultra quite and have a long life with no expensive liners to replace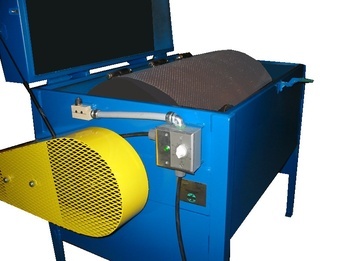 | | |
| --- | --- |
| MACHINE SPECIFICATION TB-1 | |
| | |
| OVERALL DIMENSIONS | 38″L x 37″ W x 22″ H |
| CABINET CONSTRUCTION | 12 GAUGE |
| POWER SOURCE | 115 VOLT |
| RESERVOIR CAPACITY | 5 GALLONS |
| BASKET DIMENSIONS | 18″ L x 14.5″ D |
| DOOR SEAL | MECHANICAL |
| WARRANTY | 1 YEAR (LIMITED) |
| | |
| MACHINE SPECIFICATIONS TB-2 | |
| | |
| OVERALL DIMENSIONS | 39″ L x 53″ W x 45″ H |
| CABINET CONSTRUCTION | 12 GAUGE |
| POWER SOURCE | 115/230 VOLT |
| RESERVOIR CAPACITY | 27 GALLONS |
| BASKET DIMENSIONS | 36″ L x 22″ D |
| DOOR SEAL | MECHANICAL |
| WARRANTY | 1 YEAR (LIMITED) |
MINI TUMBLER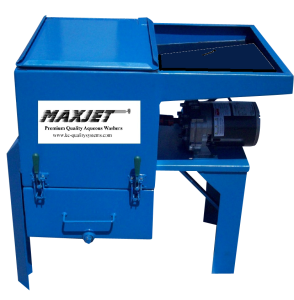 Features
The Mini-Tumbler Industrial Tumbler System is
designed for small parts and/or small batch runs.
This tumbler system is ideal for small engine parts such as
valves, lifters, rocker arms, push rods and more.
It's also perfect to resurface automatic transmission parts such as
steel plates, thrust washers, pressure plates and more.
* Heavy-duty sure-flex coupler
* 12 gauge steel construction for years of dependable
maintenance free service.
* Drain board allows solution to drain back to hopper.
* 1 hour timer and safety lid shut-off switch.
Drop Down Bottom – Uses Ceramic Media
(media not included)
Exterior H/W/D …………31" x 31" x 20"
Capacity………………………..60 lbs
Solution ………………………..5 gal
Gear Motor ………………….1/4HP- 40 RPM
Motor Torque ………………300 in. lbs.
Electric………………………. 6AMP- 110 V
Media………………………….. 50 lbs. ceramic
Weight …………………………195lbs
Basket Working Dimensions
T-0090 (fixed) ………………9"W x 15"L x 15"D
2-Year Limited Warranty
Also Available:
50 lbs. CERAMIC MEDIA
Star Shaped 1 1/8" x 3/8"
MODEL 2 TMB
General Specifications
Exterior: 39'H x 43″W x 35″D
Basket Area: 29″W x 21″H x 21″D
Capacity: 150 lbs
Solution: 26 gal.
Gear Motor: 1/2hp/ 40rpm
Electric: 8 amp / 110 v
Construction: 12 Gauge Steel
Weight: 450 lbs.
Warranty: 2 yrs. on parts
Features
Cleans and polishes up to 300 steel plates and washers at a time. The reconditioned
Parts look and perform like new.
* 12 Gauge steel construction for years of dependable service.
* Lower part of unit swings open for easy draining and cleaning
* High torque gear motor features manual overload protection.
* 2 hour timer and safety shut-off switch