Immersion cleaning exposes all surfaces of the part, including blind holes and small crevices, to the cleaning solution. By combining hands-off, total immersion cleaning, easy part load/unload, vertical lift platform agitation and optional turbo jet action parts are thoroughly cleaned automatically.  Complex parts that are stacked or nested are no problem.
We are pleased to represent the complete Graymills line of immersion washers. Graymills has been an industry leader for over 75 years.
Listed below is a sampling of the units available. We offer both solvent and aqueous models.
Testing is available to determine the ability of the unit to clean your parts.
LK Series for Extra Capacity Loads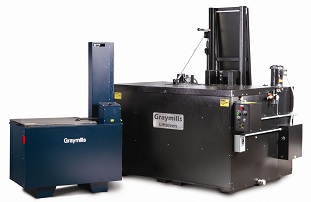 Model #

Overall Dimension (L x W x D)

Operating Fluid Capacity

Platform Dimensions (W x D)

Standard Lift Capacity – Weight

51″ x 45″ x 76″

170 GAL

35-1/2″ x 24″

550

64″ x 57″ x 81″

290 GAL

47-1/2″ x 36″

450

76″ x 66″ x 81″

355 GAL

59-1/2″ x 36″

700

76″ x 66″ x 96″

491 GAL

59-1/2″ x 36″

700

88″ x 72″ x 96″

667 GAL

71-1/2″ x 42″

700

100″ x 66″ x 96″

670 GAL

84″ x 36″

700
High power pump for in-tank fluid agitation adds more turbulence to washing tank
Drop-in Heaters and insulation for aqueous units
Lift roller platform aids in loading and unloading parts
Stainless steel tanks, lifting mechanisms, and racks to ensure long life of unit
Oil Separator to remove oil from aqueous cleaning solution during the cleaning process
Turbo-boost filtration system filters and extends life of cleaning solution
Ultrasonic Models create powerful cavitation to effectively clean wide range of parts and configurations
Rotating small parts basket
T Series
Have  a variety of sizes and options, including pump, agitation, ultrasonics, and automatic control of cleaning cycles, that make it the easiest-to-use, large size cleaner on the market. One touch control of the pneumatic air system and electronic controls turns multi-function operation into a simple step.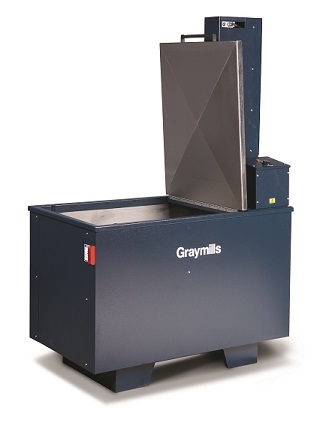 Model #

Overall Dimensions (L x W x H)

Operating Fluid Capacity

Platform Dimensions (L x W)

Standard Lift Capacity – Weight

41-1/2″ x 24-1/2″ x 66″

47 GAL

22″ x 19″

150

53-1/2″ x 29-1/2″ x 75″

118 GAL

32″ x 24″

200
DESCRIPTION TL17 TLHS18
Economy
TL Series for solvent or aqueous
TL 17   Non Heated for Solvent                 Tl-18    Heated for Aqueous Solution
Immersion Space     (L x W x D) 17″ x 45″ x 20″             18″ x 47″ x 20″
Overall Dimensions  (L x W x H) 40″ x 56″ x 84″             40″ x 56″ x 84″
(lid open)
Liquid Capacity (gal)   150                                              150
Motor/Pump (Hp)        3/4                                               3/4
Gallons Per Hour        3000                                             3000
Voltage 115/230/460V                                                   115/230/460V
Hertz Phase 60/50-1 or 3 Ph                                         60/50-1 or 3 Ph
Heater for water-based
cleaning only 60 – 180oF (15 – 82oC) NA 9 kW
Standard Features for both models:
Large capacity air-operated lift platform handles up to 300 pounds.
Automatic lid opens and closes in conjunction with platform.
Flow-thru brush and pump allow for detail cleaning (TL17 only)
MIG welded steel construction, dye tested for 24 hours to ensure no leaks
Durable Epoxy/Polyester powder coated exterior finish
provides an attractive appearance for years
GFCI and Fusible Fire Link safety protection.
Additional features for heated models :
Stainless steel construction for corrosion resistance
Adjustable, thermostatically controlled heater to
maintain optimum cleaning temperatures up to 180°F (82°C)
Fully insulated tank and lid to prevent heat loss and
provide faster heat up to save money
Available Options and Accessories :
Agitation Pump for additional in-tank cleaning action
Filtration Package to maintain fluid cleanliness
Available Cycle Timer for repeatable control of wash sequence
Oil Skimmer (TLHS18 only) for continuous oil removal
Parts Basket matched to platform
Large Extra Heavy Duty Heated Immersion Washer
Large Extra Duty Heated Immersion Washer
–
Heavy parts are cleaned with oscillation of the platform in the hot aqueous solution.
May be use with solvent or aqueous.  T he platform capacity is 1,000 lbs
Heated 300 gallon tank
Push Button Preset Wash Timer 7 Day Heat and Oil Skimmer Timer
Immersion Aqueous and Solvent Based Cleaning
Optional Turbo Boost Agitates and Filters Solution
Agitation Pump for additional in tank cleaning action
Oil skimmer for TL18
Parts Basket to Match Platform
Roller on Platform for Easy Loading from Cart
Call us today at 866-540-7575 for a no obligation assessment of your cleaning needs and to discuss the optimal cleaning configuration for your application. We can help you save time and money plus do the job better.